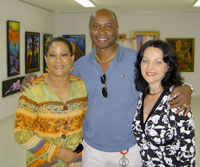 GRAND BAHAMIANS TREATED TO WORLD CLASS ART EXHIBITION: Saturday, February 26th, 2005 Grand Bahamians had the opportunity to preview a world class art exhibition entitled: "Timeline" by local artists Chantal Bethel and Claudette Dean. Two Women, Two Journeys, One Exhibition. Art collectors, artists and the interested general public came out in record numbers to view, admire and buy great local art. Mackeymedia produced an ethereal DVD audio/visual presentation of Bethel's and Dean's story intertwined with their artwork. Projected on a large screen, it was the introduction to the "Timeline" exhibit. It served as a meaningful guide when viewing the over 30 exquisite works of art. (L-R Chantal E.Y. Bethel, David Mackey & Claudette Dean). To view Del Foxton's review click Here. To view picture highlights click Here or on the picture.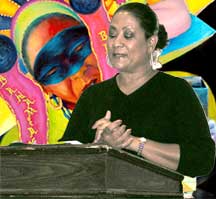 Caribbean-American Students Association of the University of Pennsylvania Invite Bahamian artist Chantal Bethel to give talk about her artwork and put on Art exhibit. Her presentation was endorsed by the Bahamas Ministry Of Tourism and the Plilomathean Society -the oldest society of Art and Letters of the University of Pennsylvania. Click here or on image for more information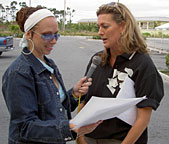 Hundreds showed up at RND Shopping Plaza for 2nd Annual Grand Bahama Car Show held this past Saturday April 30th. Car prices were lowered just for the big event and banks and insurance companies were offering special low rates and processing applications onsite. Pictured (L-R) "JJ", popular Radio announcer from Bahamas National independent radio Station 100JAMZ, Sarah Kirkby of Barefoot Marketing the company that promoted the Event. For full article and more pictures click HERE or on Picture.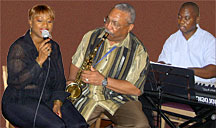 Live Jazz is back in swing at Grand Bahama's newest night spot "Cafe Kanoo". Popular LOVE97FM radio personality Shelly Carey, recognized as one of the Bahamas' top female Jazz vocalist delivers the smooth sultry vocal euphonies that made her famous. Saxophonist/ woodwinds specialist Ralph Munnings seduces his audience with his alluring sax improvisations. Ralph Munnings, well respected in international circles, has performed on numerous recordings. Ralph is also an Artist and owner of "Luster Craft Signs Co. ". Keyboardist Patrick Boston utilizes technical wizardry and dazzling finger work that forms a solid musical foundation that gives the trio a full sound. Patrick is also a music teacher and recording studio owner. He has produced numerous recordings for local artists. For additional images click on the picture.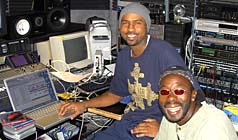 Home Recording studio owners Jermaine Rolle & Dave Hoyte pose for a photographic moment at Mackeymedia. Jermaine is mixing a various artists compilation album that was arranged, produced and recorded at his studio. Dave Hoyte, a mutual friend and dynamic musician, stopped in to visit and show off a new piece of musical equipment. Dave has arranged music for numerous Bahamian recording artists including The late Cay Gottlieb , Swain & The Citations and many others, he is the son of steel pan drummer The late Leslie "Little Sparrow" Hoyte and the brother Mike Hoyte (check out his audio interview in our audio interview archives). Dave also arranged and performed the music on a popular Steel Pan album entitled "New Wave Steel Pan". Jermaine, a naturally talented MAC Guru and Engineer/ Producer and web master Dave Mackey were in DP heaven during this session, as we are both are MAC MOTU Digital Performer fanatics. Audio interviews with both Jermaine and Dave are coming soon to mackeymedia.com.