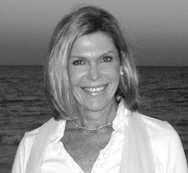 The much anticipated release of Marina Gottlieb Sarles Book "Sand in My Shoes" took place Friday February 25th at Club Caribe with great Hollywood style fanfare. Sipping fine wines compliments of Bristol Cellars, who's who of Grand Bahama Society came out in droves to congratulate Marina and purchase autographed copies of her book. In his forward to "Sand In My Shoes" Former Prime Minister Hubert Ingraham said " Marina's collection is an important addition to the growing body of Bahamian literature spawned by our growing awareness of ourselves as a people with our own identity - a whole made up of many different but congealing parts." To read Denise Maycock's article on "Sand in my Shoes" click here

. To view a photo gallery from the book launch click on Marina's picture.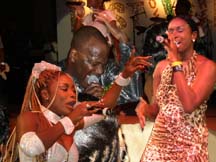 Best Of The Best 4 Concert packed house: Executive Producer/ concert promoter Les Turnquest and his hard working team showed Grand Bahama that Bahamians love their own music. September 27th, 2003 Les teamed up with popular Bahamas National Radio Station 100JAMZ to bring to Grand Bahama "The Best Of The Best" Bahamian Artists in concert at the Camelot Room, Freeport GBI. Unlike most concerts, The Best of The Best 4 Concert commenced On Time. Mr. Turnquest, well known in concert circles as a man of promptness came through again with yet another successful event. Numerous picture highlights are available by clicking here.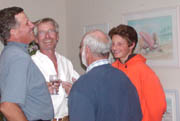 HOT! HOT! HOT Evening at Island Rhythms II Art Exhibition Freeport –The Grand Bahama Artist's Association's Island Rhythms II Art Exhibition at the Freeport Art Centre Saturday, March 12, 2005 was a fun evening of Art and Refreshments. Well known and emerging artists of Grand Bahama's artistic community unveiled and sold new Island Rhythms II creations. The Freeport community came out to view the new and unusual work that is being done by local artists. Grand Bahamians who visited the Island Rhythms Exhibition had the opportunity to see many aspects of their culture that is represented in the artistic works. Visitors to GB Island also saw the exciting, diverse art that is being produced on Grand Bahama. To view photo gallery by Del Foxton click here or on image.

"Bahama Randy Clare" is fullfilling his life long dream- recording his own gospel album. Randy's album will comprise of traditional gospel songs sung by him at Mackeymedia. Randy Clare is a long serving employee with the Bahamas Ministry Of Tourism in Alexandria Virginia. In his capacity as Golf Marketing Manager Randy has the opportunity to persue his dream of recording his solo album during his numerous trips back to Grand Bahama.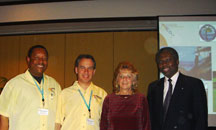 GRAND BAHAMA ISLAND TOURISM BOARD ANNOUNCES RE-LAUNCH OF GO GRAND BAHAMA VACATIONS April 10, 2005 - With the re-launch of Go Grand Bahama Vacations , formerly Grand Bahama Vacations, in April 2005, travelers will find it increasingly easy to enjoy a vacation on sunny Grand Bahama Island. Go Grand Bahama Vacations was recently purchased and re-structured by the Grand Bahama Island Tourism Board and is dedicated to offering the widest range of Grand Bahama Island Tourism products. (From right to left His Excellency Joshua Sears, Bahamian Ambassador to the United States is pictured with a prize winning Baltimore Travel Agent, Go Grand Bahama Vacations General Manager, Stephen Clements; and Terrance Roberts, Director of Business Development, Ministry of Tourism, Grand Bahama.) Click here or on picture to view entire article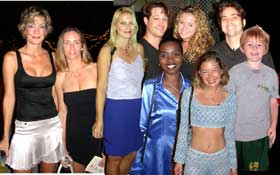 Hollywood's eyes Grand Bahama - in November 2003 a well known South Florida based Film production company filmed 3 European Television commercials on Grand Bahama providing opportunities for local residents to participate. Mackeymedia was hired to conduct the casting. The picture above shows a handful of the individuals chosen to be extras in a swim wear scene filmed at "Our Lucaya" a popular tourist resort & Casino on Grand Bahama.

"FJ" Fritz Bootle Jr. and son visit Mackeymedia on recent trip to Grand Bahama from Green Turtle Cay Abaco. In his earlier days Fritz wrote many songs on the local GBI label. As a song writer, producer, engineer and videographer Fritz has done it all. He is in the process of recording a new solo album at his new Green Turtle Cay Studio.