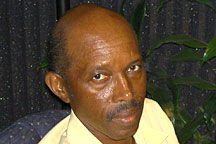 REMARKS FROM DAVID L. JOHNSON

DEPUTY DIRECTOR GENERAL

BAHAMAS MINISTRY OF TOURISM

GRAND BAHAMA BUSINESS OUTLOOK

WESTIN AT OUR LUCAYA BEACH & GOLF RESORT

MARCH 07, 2006

Good morning Ladies and Gentlemen,

I have been asked to provide a forecast or outlook for the tourism sector on Grand Bahama Island going forward and especially over the next 12 months. Before I do so, I believe it is very important that all stakeholders in tourism obtain a true appreciation of the challenges we face in this destination so as to also appreciate what we must do in order to ignite real growth and return to a state of sustainability that we sorely need.

Grand Bahama Island enjoyed its best six consecutive months in performance in over 12 years in the first half of 2004 before being ravished by two consecutive hurricanes that resulted in the loss of one third of the island's hotel room capacity, which remains today. Last fall, hurricane Wilma caused minimal disruptions in the tourism sector, except for West End but inflicted more damages in the residential coastal areas on the western sector than the two previous hurricanes.

Grand Bahama finished 2005 with overall tourist arrivals being down by 11.2% with air arrivals down some 20% and sea arrivals down 5.8 %. Grand Bahama rebounded in the last quarter of 2005 with air arrivals showing a 64% increase over same period a year ago and sea posting a 107% increase compared to 2004.

What is significant from a financial perspective is to note that even with the loss of 1/3 rd in inventory for the second half of the year. Grand Bahama generated hotel revenues in 2005 of $46. 8 million compared to $43.4 million in 2004 registering a 7.8 % increase with average room rates increasing by 21.6 % from $90.60 to $110.22.

The foregoing goes to show that if we measure tourism success by hotel financial performance, we will miss altogether what it does for our economy. We begin to forget that far more persons not employed directly in the hotel sector are impacted when tourism counts fall than those directly employed at our resorts. My friends remember the loss of a single stopover visitor is a potential loss of some $800 in the economy. So when we shut down 1000 rooms and by extension lose the ability to attract almost 1/3rd more stopover visitors, we are talking about a loss of some $120 million in income in this economy and that is what we are experiencing today.

I wanted to share the foregoing bit of brief recent historical performance measurements and comparisons so as to set an accurate backdrop from which we can assess where we are and determine where we need to go. I will now share some of my thoughts on the path forward to a true and full recovery that can and would set this island on a path where it leads the region in growth over the next 20 years.

Ladies and gentlemen, we need to recognize that we are operating with several handicaps, one of which is our lack of critical mass and inability to achieve the much needed economies of scale to compete effectively. I don't believe we should sit back and simply continue to rationalize our lack of achievement by articulating what is "ailing us" but take swift measures to fix it.

I must begin by telling you that Grand Bahama Island has one of the highest airport turn around costs within our region and when compared to Nassau, our cost is some $34 per pax more. What this means is that on a 50 seat aircraft with average loads of 75%, GBI cost $1275 more to turn around the Dash 8-500. On a jet with 125 seat capacity with a 75% load factor, GBI costs $3,187 more per turn or well over $1 million per year if they operated a daily service.

Now, so that you can appreciate how cost triggers diversion of traffic, I would share the performance of two nearby airports one with higher costs and one with lower costs, namely Miami and Ft. Lauderdale, sharing just one months traffic to demonstrate this in action:

In July 2005 Miami's air traffic grew only by 2 % from 1, 389, 298 pax to 1,423,313 pax. Ft. Lauderdale grew by almost 200% for the same month from 319,849 to 953,120. A significant number of the Ft. Lauderdale passengers are persons who live in Dade County but choose to save money by using Ft. Lauderdale for cheaper flights on the Southwests, Jetblues, Spirits and Air Trans all of who avoid flying into high costs airports. If Miami did not have the European and South American long haul network they would be out of business today competing with Ft. Lauderdale for domestic flights. They would be forced to drop their costs to at least Ft. Lauderdale's levels to regain their share of the pie.

In the same way, unless Grand Bahama begins to offer competitive airport turn around costs, we will be hard pressed to stay in business, much less pursue any growth strategies. The customer really don't care to know and will not research the reason for our high costs; it's none of their business. They will simply choose other more attractive options as they view them. Jetblue and Spirit refuse to operate flights to Miami for reasons related to cost and in the same way will not consider serving GBI for the same reason, in addition to several other considerations.

I must also share with you that we have in Grand Bahama, for far too long, made poor decisions or allowed the wrong decisions to prevail regarding who develops what in our tourism sector. It is time we stop allowing for or ushering in investors or developers whose agenda is not a wining one for the destination if we were to professionally vet them in advance. We must realize that our business is a most competitive one. We must seek out those with winning track records and not continue to become the recipient of schemes that could never work. The Royal Oasis is but one example and we have others in our midst today that require restructuring if they are to see profits anytime soon.

Ladies and Gentlemen, we are in an era where fuel cost has reached a level no one could have imagined. In Grand Bahama we have jet fuel today at some $2.30 cents per gal which is almost three [3] time what it was some three years ago. Air Tran's costs have increased on Atlanta to Grand Bahama alone by over $2 ˝ million. Air Tran and US Airways, our two most important jet carriers today are faced with a combined increase in their flight costs to GBI of some $10 million driven largely by fuel costs and compounded by our much higher turn around charges that I share earlier.

Our best weapon is to seek out ways to lower our costs in the areas we can even if it can be linked to volume. Today there is no incentive in GBI International for an airline to add capacity in the hopes of lowering unit costs, which is often the incentive in most locations. We must find ways to compete…others are doing this.

I must state that this is not simply the airport operator, or government, or the Port authority. Our airport costs are driven by a combination of well above average cost driven by the airport facility, the handlers and yes, high customs and immigration overtime charges that do not exist elsewhere in our region because we treat flights before 9 AM and after 5 PM, as well as Sat and Sundays as being out of the normal work week.

Ladies and gentlemen, our taxes on tickets to the USA from GBI is now $104 per person when the airfare is often no more than $100 and sometimes less. Five years ago it was some $48 or so. It is $69 to Nassau. We must fix this to get where we wish to go with successfully redeveloping our tourism sector.

We are in an era when the appetite for real estate investment in The Bahamas is at an all time high. The baby boomers today are driving the housing market in warm weather destinations worldwide and our location makes us a prime choice. The current and future tourism is and will not be the traditional hotel chasing transient guests but rather residences built as condominiums or condo hotels, time share resorts, second home single family residences with marina, golf, spas and other resort type amenities.

Grand Bahama is well positioned to embrace this trend and is well on it's way with projects already announced and I predict will lead the way in growth in this area in The Bahamas. We must, though, not view these developments as opportunities for foreign investors only but rather begin to participate in some of these developments ourselves as owners, since what it takes in most cases is well within our reach. This is very important since as a country we should not continue to assign the future of our number one industry to non nationals whom we feel should bear the risk, then not feel too happy when they reap the reward, while we stand on the side lines. I will be spending a lot of time in my role in tourism promoting and facilitating much more Bahamian ownership in our tourism sector, so you will hear much more about this from me as we go forward.

Cruise Tourism has been consistently ˝ of Grand Bahama's tourism arrivals over the past 15 years and this has occurred with a "far less than ideal" cruise port. We are encouraging the development of a state of the art new passenger cruise facility for Grand Bahama that would, after its completion, result in cruise arrivals swiftly reaching the $1.5 million mark from the existing 400,000 we are achieving today. A new cruise port will inject approximately $100 million per annum in tourist expenditures in this island's economy.

Critical to the rejuvenation of our tourism sector in the short term is the redevelopment of what we know today as The Royal Oasis Resort & Casino as well as the adjacent Internal Bazaar. We have not been closer than we are today and I know that the players we are engaging to take this on can deliver. They have the market leverage and credibility and are financially prepared to truly "redevelop" and reposition and not simply come with paint and wall paper. We need much more than simply having the 1000 rooms back in play, we need a new and vibrant spirit that a world class operator will bring to this section of the island.

In tandem with the redevelopment of The Royal Oasis and International Bazaar will be a focused effort to bring back night life, especially native entertainment to Grand Bahama's main stage. This is the mandate of my Ministry of Tourism and we have already mobilized the team and are putting in place the resources to cause this to happen.

Likewise with the further expansion and redevelopment of our golf facilities we will use golf as a driver of business while focusing on other forms of sports tourism, which Grand Bahama will become the natural home for in The Islands of The Bahamas.

In closing and in summary, my outlook for Grand Bahama suggests the following:

We will get our arms around the airlift challenges with a collective effort realizing that without it we will have no industry.
We will see a complete recovery in tourism arrivals and spend by winter 2007.
A new cruise port will break ground in 2006 and drive cruise tourism to levels comparable to that of Nassau within four years.
We will embark on a period of new construction and rapid growth commencing by late summer this year that will continue for the next 10 years.
We will reach the 4000 room capacity by winter t2007 and see it doubled by 20016.
The three geographical areas of Grand Bahama that is, the West End, a reinvented Freeport/Lucaya and the East End will come into their own with tourism appeal that is unique but complementary to each other.
Grand Bahama will attract a growing share of Bahamians who will move to this island because of the superior economic opportunities and overall quality of life it can offer. This will lead to the accomplishment of our goal of creating greater economies and efficiencies and assist in making Grand Bahama the world class destination it can be.